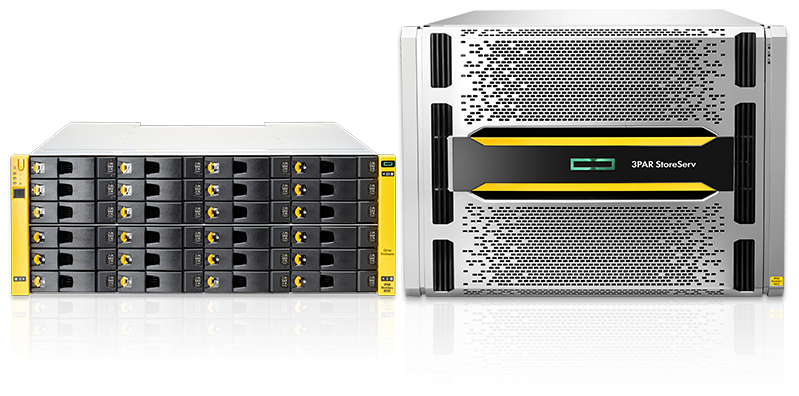 Currently HPE 3PAR products include Series 8000, 9000 and 20000. Series 8000, Year 2015 was introduced as a MID-RANGE series that comes in two types of FLASH and HYBRID. Series 20000 is a HIGHEND series introduced in year 2015 and can be increased to NODE8. Series 9000 has also been introduced in year 2017 which can be increased to 4NODE.
On all 3PAR circuits, there is the ASIC chipset. The current version of this hardware is ASIC GEN5 which has COMPRESSION THIN PROVISIONING, PARTY CALCULATION capabilities.
Some of the features of this product series include:
Data Center keeps you up-to-date, eliminates complexity, and manages data access by up to ۹۹٫۹۹۹۹%.
Speed is provided with the fifth generation of Assured Qos, ASIC and latency below one millisecond.
Downtime is prevented with Multi-tenant and Tier-1 data service.
With Hardware-Accelerated Thin technology, it provides reduced flash storage costs.
Spend less time managing storage
۳PAR is a manufacturer of information storage and management systems and software located in Fremont, United States. Following HPE's acquisition of the company in 2010, the company is owned by Hewlett Packard Enterprise and all of its products are manufactured under the company name.
3PAR launches its first storage device, InServ, on September 2002. The main competitors for 3PAR were IBM Dell EMC, Pure Storage, NETAPP, Hitachi.
۳PAR calls itself a pioneer in Thin Provisioning and mechanisms to improve storage utilization efficiency. It first introduced this feature in Year 2002 and made it available to users the following year.
In November 2007, it introduced a feature called Virtual Domino that allows multiple applications to work securely and isolated on one platform. In fact, it developed Multi-Tenant on 3PAR.