HP Webinspect Security Scanner
WebInspect is made by HP. Similar to other tools, it tries to simulate real-life hacking techniques, then provide a complete analysis of applications and services. It also checks web services for the correct configuration. One of the problems with this tool is the high cost of the tool, but according to users who use it, the capabilities of the tool are very high and therefore still in use by them.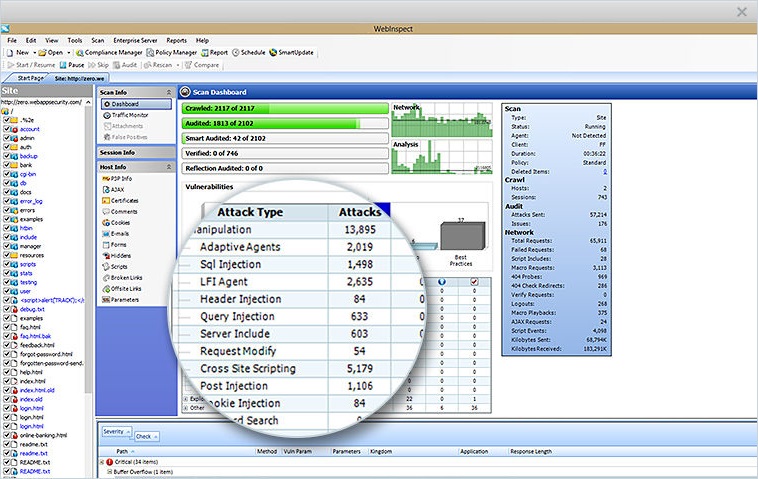 The software itself costs about $ 200. The important thing is that the HP WebInspect base price is set by the support discussion (one month, six months, one year, user name). This support includes software database updates, new intrusion and vulnerability testing methods, and communications with HP. Having software without support is useless.
Corporate Discussion of Software Usage Shared Among Users: This is not a Crack mode but a state of the art licensing program called Concurrent User that multiple users can use.
The HP Webinspect security scanner is used to dynamically test websites, web applications, and web services.
New versions of HP WebInspect provide dynamic and static testing (at the code level), due to the collaboration between WebInspect and HP Fortify.
The Trial version of this software is free to download from the [Only registered and activated users can see links] site
The Trial version of this software is only valid for 7 days and only scan the specific site that HP has introduced at zero.webappsecurity.com
To test a website other than the site above, a license must be provided (one month, six months, one year, user name) This software does not crack.
Worried about the security of your websites, portals, or web services? Are you worried that your apps will be safe from new cyberattacks by the next test period? Are you sure you are testing on your web applications using advanced tools? Do you pay a high price for intrusion testing on all organization apps? Are you looking for a solution for intrusion testing by your organization's security experts? Are you looking for solutions in addition to identifying vulnerabilities?
Sorena Secure Processing Company offers a new approach to organizations in terms of security of web applications and services, rather than utilizing intrusion testing and vulnerability detection services, using tools that primarily Real-time and second-hand applications for an unlimited number of applications.
Introducing web app security assessment solution
HP Webinspect Security Scanner is a leading software application for the security assessment of web applications and services. It has important features such as fast scanning, extensive security evaluation coverage, extensive knowledge of vulnerabilities and accurate scans of web applications and is able to easily detect vulnerabilities that are not detectable by traditional scanners. It easily manages the most sophisticated technologies available in web applications, such as Java Script, Flash, AJAX and SOAP, yet is easy to integrate for security professionals or newcomers to the field of application security. This software is always updated with the most advanced security intrusion testing mechanisms, scenarios and technologies.
The very economical thing about HP Webinspect security scanners is that the organization's security team will be able to use this software indefinitely to test their web applications because it has no restrictions on the number and applications under test or even location. Geography does not have the type of programming language and how it is produced.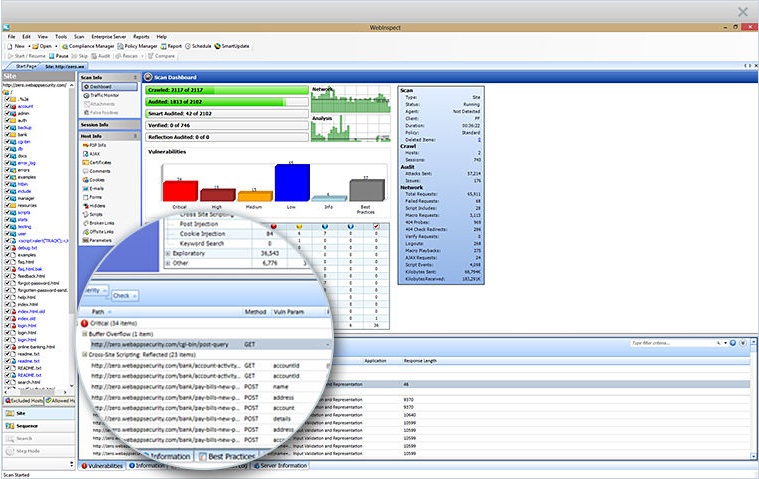 Main Features and Benefits
Easy implementation without the need to change the source code of applications or network topology
Quickly start a scan by just entering your URL, username and password to get instant results
Comprehensive and comparable reports in a variety of formats with a professional and beautiful appearance that can be customized and expanded depending on your role and performance
Accelerate scan generation with smarter results with the simultaneous use of Crawl and Audit technologies
Run reports based on security standards such as PCI, ISO, HIPAA and other regulators
advanced tools for Penetration Testers
Gather the most skilled professionals in the HP DVLabs, HP ArcSight, HP Fortify, HP Labs and HP ASC teams
Contacts
banks
Important government websites
penetration test companies
Software companies that build critical applications
The capabilities and services of the Sorena Secure Processing Company
Provide this product from reputable sources
Providing valid licenses and registering them in Iran and in the name of your organization
Configure the HP WebInspect solution to suit the needs, size, and performance of the organization
Installation, commissioning, training, and providing all the support organizations need for this product
Software updates, upgrades, and software support licenses extended directly from HP
Full access to the information in the HP Knowledge Base
Benefit from HP Professionals and Certified Professionals